In the last decade, the Nigerian beauty and cosmetic industry have experienced something akin to a cosmic shift. While looking good has arguably always been part of the Nigerian cultural lexicon, it has recently stepped up a notch by offering us numerous places (and ways) to get our lashes fuller, skin glowing, wrinkles gone and eyebrows tweaked. The growing amount of options we have can make it overwhelming to decide where to get what done. Trust me, I get it. Truth is, doing your research before you get what you want done will, in the long run, save you a lot of time, tears and money.
About a month ago, I decided to book a skin consultation with an esthetician to help me improve some of my skin concerns. I had reached a point in my skincare journey, as I feel we all do at some point, where the products I had were just not working anymore. I was in truth tiredt of buying products that promised me results that I was struggling to notice. After some days of extensive scrolling, tapping and a recommendation from a close friend, I finally settled on a skin clinic.
When I got to my skin consultation, I told my esthetician my skin concerns:
Hyperpigmentation

Rough skin.
She recommended I get a TCA peel.
TCA peel: cosmetic treatments that use trichloroacetic acid (TCA) to improve your skin's appearance. People use TCA peels to try to get younger-looking skin and to treat certain skin conditions, like melasma and acne scarring.
I was first introduced to chemical peels through Sex and the City legend Samantha Jones and was put off by how stressful they looked. Painful and blotchy, I didn't exactly leap at the opportunity to get it done. I was however reassured by my esthetician that I would not look Samantha Jones-y during the peel, but that I could, however, experience some burning and discomfort.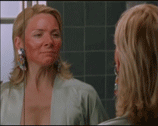 I was recommended to buy some new products to help prep my skin for my upcoming peel. Prepping your skin before a peel is super important as it ensures your skin peels uniformly and helps shorten the duration of the treatment and speed up healing process.
I got: a glycolic and salicylic acid cleanser, 0.05% retinol, 0.05% tretinoin and an active moisturizer. All of the products I got, except for the moisturizer which is from Dermalogica, were prescribed and bought at the skin clinic, due to their high concentrations/ strengths.
To give the products a fair chance, and also because I was afraid of breaking out, I stopped using about 80% of my current products. Here's what my new routine looked like:
AM
Cleanse with glycolic and salicylic acid cleanser.

Tone with Thayers Rose Petal Witch Hazel.

Moisturize with Dermalogica.

Sunscreen from Body Shop.
PM
Cleanse with Tatcha The Deep Cleanse

Apply a pea-sized amount of retinol or tretinoin ( I alternate between them every night).

Moisturize with Drunk Elephant Lala Retro Whipped Cream.
I am glad to report that I have noticed amazing results, most noticeable that I have ever seen with my skin tbh, since sticking strictly to this routine. I have fewer breakouts, brighter and smoother skin, and a more even tone. In a few weeks, I will be getting my TCA peel and I am excited about the upcoming results!